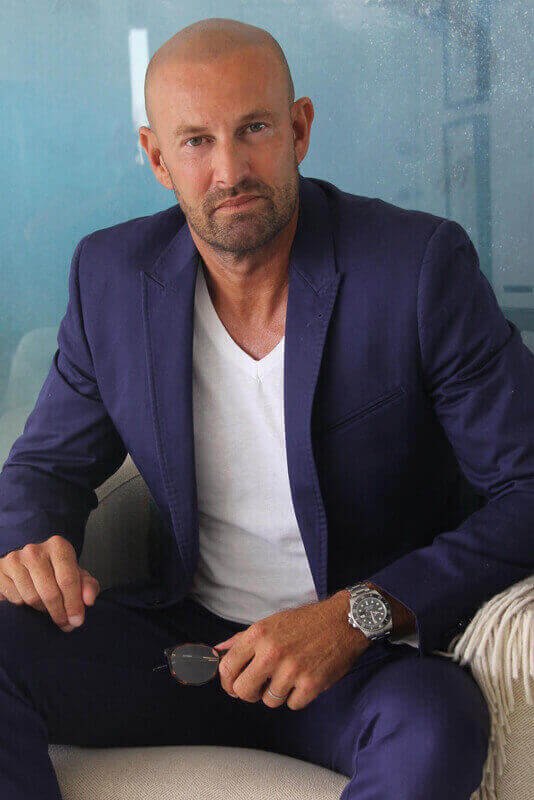 Jon Paul
Director / Senior Stylist
jp@jonpaulinteriors.com
+61 (0) 410 960 600
Jon Paul Daly was born in the United Kingdom and lived most of his life in SOHO London, this where he developed his taste for Architecture, Art and Design. Shortly after moving to Australia in 2001, he started his career as an Interior Designer. Jon Paul has designed and furnished thousands of grand homes and luxury apartments all over Sydney.
Known for his impeccable style and personable service.
After a decade in the industry heading up a number design groups, Jon Paul Interiors PTY LTD was launched and is now recognised as one of the countries leading design firms.
Here, he offers clients the best of both worlds: Luxury at an affordable price.
ABOUT US
Jon Paul Interiors has amassed an extensive range of designer furniture from spectacular art, amazing rugs and glamorous accessories.
For 10 years Jon Paul Interiors has focused exclusively on property styling for the real estate industry. Every design is overseen personally by Jon Paul and installed by their expert team, with furniture tailored to make the property look its absolute best.
With more than 20,000 properties styled, Jon Paul Interiors has a huge range of classic, modern and contemporary furniture at their fingertips to complement and style any property, from a small modern unit to a large classic family home.
Our aim is not just to fill a space with great furniture, but also to create a beautiful inviting home; showcasing the property with a cohesive mix of quality furnishings the potential buyers can really envision themselves living in.
Jon Paul, I think you have done a sensational job, many thanks.




Paul Kirton – McGrath Estate Agents
Hi JP

Loved what you did, apartment looks amazing

Regards, Janet




Janet Hopwood – Trading Places Real Estate Services
Jon Paul is a delight to deal with as he is always enthusiastic about styling any property whether it be a small 2 bedroom apartment or a multi million dollar home. I would never not use a stylist for an empty property or to just fine tune some places that are in need, he will offer this advice and expertise even down to painting tips.




Monique March L.R.E.A, Sales Director – LJ Hooker, Bondi Beach
My name is Mary Howell and I am a licenced real estate agent with McGrath Estate Agents. I have been selling residential real estate in the eastern suburbs for the past eighteen years.

What a difference Jon Paul can make to the sale of a property! In a tough market or if the property has a few rooms that are challenging I always call on Jon Paul to add value to a property.

Jon Pau


Mary Howell – McGrath Estate Agents
Dear Jon Paul

Thank you , thank you for the your amazing ability to transform the spaces of the houses I am engaged to sell.

I thoroughly enjoy working with you, always confident that you will deliver on time and on brief.

Not only do you make the homes and spaces look terrific but you do it with such efficiency and good spirit making my job so much more enjoyable too!




Georgia Cleary - Director
Jon Paul is a gifted, professional stylist. Position Realty has worked with Jon Paul now for several years and our team has always been impressed with his professionalism, sense of space, use of colour and styling.




Deborah Terley – Position Realty
I have recommended Jon Paul to numerous clients over the last few years to maximise the sale of their properties with professional styling which he has always done beautifully.

Jon Paul has high quality furniture and an excellent eye for showing off a property to its absolute best; he is efficient, reliable and hard working.

I highly recommend him to anyone wishing to present thei


Sally Hampshire, Director – Laing+Simmons, Double Bay
We're really impressed with what you've done. It looks fabulous! We like the way you have worked with the "look" and taken in the 70s vibe to make it look cool, rather than dated – very clever. It looks very Californian.




Megan
I have known and used the services of Jon Paul Interiors for the past several years.

Whenever I list an apartment that is vacant, the first person I think to call is Jon Paul.

His mannerisms and work ethics have not changed from day one. You know when you call the company you are dealing with the man himself.

I have been very successful in selling all the properties we have


Simon Polito JP – Laing
"When it comes to styling there is no other team I would rather work with.

Over the years his styling has contributed to many fantastic results for our clients.

He is enthusiastic and always delivers a great presentation for our selling campaigns"




Daniel Baran Director The Agency
I have worked with Jon Paul Interiors for many years and have always been impressed by his professionalism, flair for style & positive attitude as well as incredible efficiency in getting the job done – sometimes within very tight time constraints.

He has always been a pleasure to work with and I look forward to continuing to work with him for many years to come.




D'Leanne Lewis – Laing+Simmons, Double Bay
Jon Paul from Jon Paul Interiors Has wonderful talent in transforming any area in your home into something really special with his wonderful style, and is a really great person to work with and know.

I would highly recommend Jon Paul to anyone.




Joseph Raskin – Raine and Horne, Double Bay
It is my pleasure to write a letter of reference of recommendation for Jon Paul at Jon Paul Interiors.




Diarnah Lynch – LJ Levi
I have found Jon Paul refreshingly natural and with a "can do" approach whenever I have recommended him to a client. It's the total service and client care that I trust.

He seems to instantly understands the Vendors needs & importantly the budget, and knows just what he can style for the space.




Patrick Moxley – Laing+Simmons, Double Bay
We have been working closely with Jon Paul for about 4 years now. He is the first person that comes to mind when we need a property styled. His attention to detail and professionalism is way above the rest. He is flexible and actually cares about the clients needs, he caters for small units to big homes and all our clients love his friendly and warm nature, not to mention his amazing selection


Ric Serrao – Principal of Raine & Horne Double Bay and Bondi Beach
I just wanted to let you know that I think you did an absolutely sensational job on styling Manion Avenue – you have made it look stunning and its reminiscent of when I lived there 25 years ago (but better) – before all my children lived there one after the other!

You have been terrific and I really really appreciate your assistance and professionalism.




Elizabeth Crundall
I first met Jon Paul when I was selling my 1 bedroom art deco apartment in Elizabeth Bay. I had moved my furniture out and so the place looked lifeless with no character. Jon Paul made the place look stunning. I managed to sell the apartment for a considerable amount more than what I was expecting after the first home open, which I am sure was a result of Jon Paul's work.




Victoria Rose
Good Morning JP

I was very surprised when I inspected 18 Holdsworth Street. I think you have done an outstanding job




Michael Chant – Shore Partners